Real estate agent in Mougins, Azur Contact Real Estate
Horaires
From Monday to Friday
from 9:00 am to 12:15 pm and 2:15 pm to 6:30 pm.
Outside of business hours,
contact us for an appointment
​Azur Contact Immobilier, your real estate agency in Mougins, will assist you in your acquisition project.
Our large selection of properties for sale, and our attentive listening to your needs, we allow to propose qualified properties. Located at the entrance of the Domaine de Saint-Basile, a golf club between Cannes and Mougins and the old village of Mougins; Close to international schools; Azur Contact Real Estate is specialized in the sale of villas, apartments, properties and land. We carry out shots by drones, virtual visits and videos for the presentation of your property for sale.
The real estate market in Mougins.
Mougins, with an area of 25.6 km² and more than 20,000 inhabitants, is a prestigious real estate market. Its geographical location makes this agglomeration a strategic crossroads between Nice airport, only 20 km away, and the cities of Cannes and Grasse. Around Mougins are the satellite towns of Mouans-Sartoux, Valbonne, Le Cannet and the Sophia-Antipolis technology park, the largest in France and Europe. The reputation of the village is built around its perched village, built in the Middle Ages. Historically, the village was a peasant commune specialized in jasmine harvesting. Today, it is a commune with green landscapes that has managed to organize its urbanization while preserving the quality of life of its residents. The very residential real estate market is mainly made up of neo-Provencal style villas, which are set in an urban landscape that gives Mougins a beautiful osmosis with nature and has earned it the nickname of garden city.

Mougins is like a large garden with many green spaces that occupy nearly 50% of its territory. An essential component is the Valmasque park which covers 427 hectares, a place for leisure and walking; The Fondmerle pond, renowned for having the largest number of Asian lotuses in Europe, not to mention the bucolic walks along the banks of the Siagne canal, a site of great beauty, which crosses the very heart of the city, as well as two golf courses, Cannes/Mougins and the Royal Mougins Golf Resort, which are highly appreciated by golf enthusiasts, make Mougins a place where life is good.

Mougins, a place of culture. The culture is oriented around the arts of the table and gastronomy, but also around art galleries and painting without forgetting the Museum of Classic Art and the Museum of Photography. Near the pond of Fondmerle, the Chapel Notre-Dame de Vie which adjoins the former property of Pablo Picasso.

The urbanization is divided into 5 districts:
- Mougins Centre, which includes Le village, Le Val, the Notre-Dame-de-Vie sector and the new heart of Mougins, which is intended to become an "Agora", a new city center built around a welcoming and commercial square, a true intergenerational living space similar to a garden city.
- Mougins East which includes the sectors of Saint-Basile, Le Devens, Font-de-l'Orme, Les Bréguières characterized by the Arnaud Tzanck hospital and the Mougins-School international school and the Golf Coutry Club Cannes Mougins.
- Mougins South which includes the sectors of Cabrières, Aubarède, Campelières and which borders the communes of Le Cannet and Cannes. It includes the Cabrières nursery and elementary school, the secondary school, the gymnasium and the Campelières swimming pool, which mark the southern entrance to the town, the creation in 2014 of the new gendarmerie and the creation in 2017 of the "Scène 55" cultural center.
- Mougins Ouest which includes the sectors of Pigranel, Saint-Martin, Grand Vallon and where the primary and nursery schools of Saint-Martin are located, the college of La Chênaie bordering the town of Mouans-Sartoux, the Lyonnaise des eaux and the Royal Resort Mougins Golf Club which organizes Pro Amateur tournaments.
- Mougins le Haut is a recent district, it was designed in the image of a Provencal village in spiral. It is a village within the city, composed exclusively of neo-Provençal style apartment buildings and a few small local shops, but also a crèche and an elementary school with the particularity of being built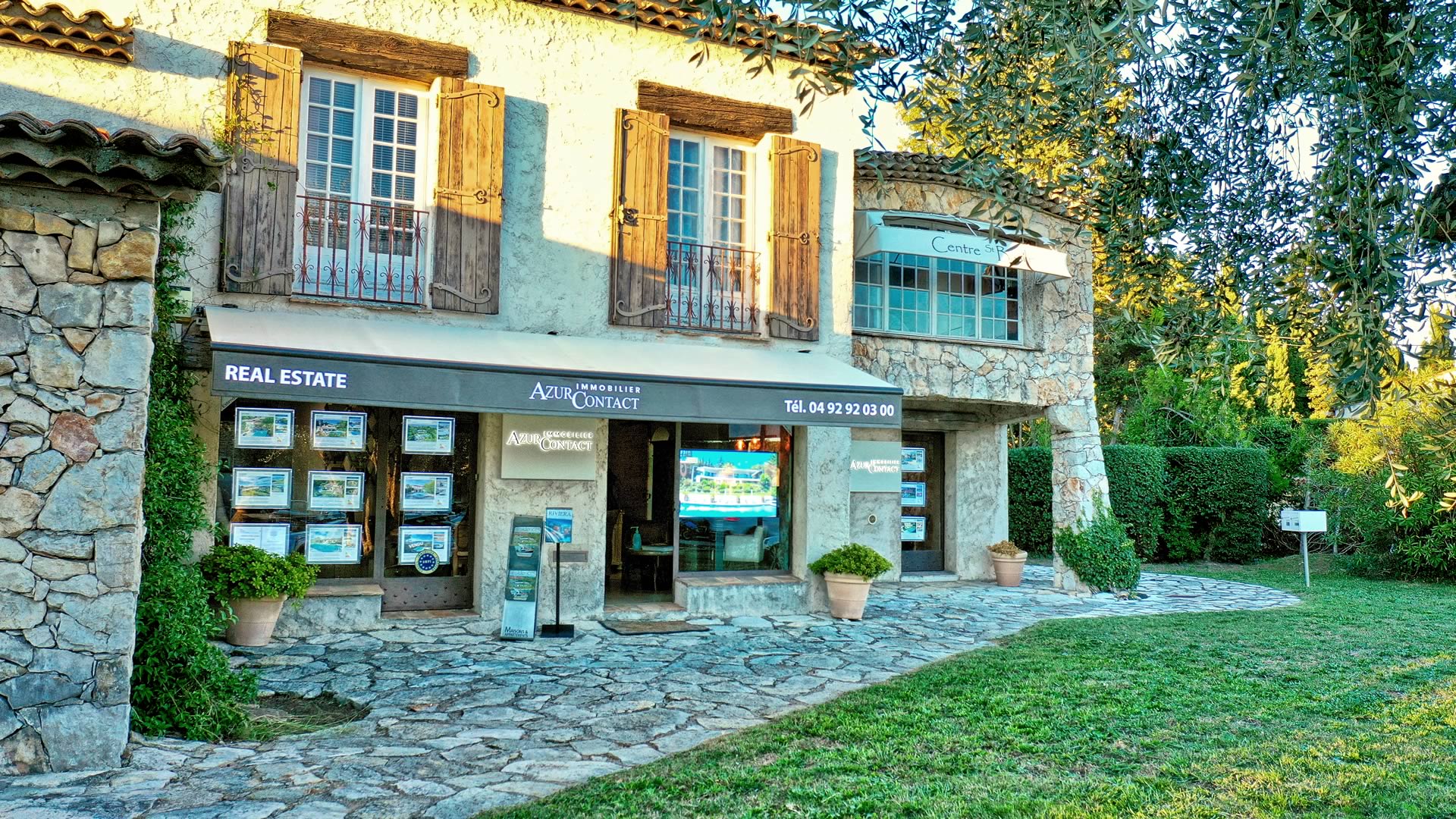 Real estate Mougins